Finding Hidden Income & Assets
May 24, 2022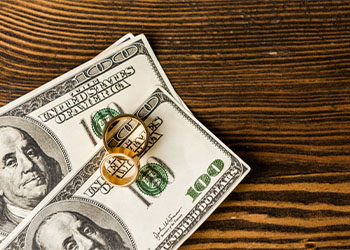 In an Ohio divorce, the couples are required to divide their marital property—assets accrued during the couple's marriage—equitably and justly. Unfortunately, some dishonest spouses can decide to hide their assets and income in order not to share with their estranged partners. Thankfully, divorcing spouses who suspect financial infidelity can find hidden assets and income by seeking legal assistance. A skilled Ohio family law attorney can guide you through the divorce discovery process and help uncover any hidden income and assets.
At Rachel V. Triplett, Attorney At Law, LLC, I have devoted my career to providing excellent legal services and reliable advocacy to clients in divorce and property division-related matters. As your legal counsel, I can review and investigate all financial accounts and attempt to unearth any hidden assets and finances. I will walk you through every phase of the divorce process and help you move forward. My firm proudly serves clients in Georgetown, Ohio, and throughout Brown County and Adams County.
Division of Assets in Ohio
Ohio is an equitable distribution state. This means that marital property must be divided equitably and fairly between the spouses. In a contested divorce, the Ohio courts may consider the following factors, among others, during the division of property:
The length or duration of the marriage

The assets and liabilities of each spouse

The liquidity of the property

The tax implications of asset division on each spouse

Each spouse's retirement benefits

The availability of a premarital agreement regarding property division

Any other factors deemed necessary by the court to ensure equitable distribution.
A knowledgeable Ohio divorce attorney can evaluate every detail of your case, determine if your estranged partner is hiding assets or income, and guide you through the property division process.
Commonly Hidden Assets or Income
Some commonly hidden assets before or during a divorce include:
Real estate property

Cash

Retirement funds

Life insurance with cash value

Bank accounts

Stocks and bonds

Pension plans

Extra income made from investments, rentals, or royalties
An experienced lawyer can work to unearth any hidden asset and finances and help recover what is rightfully yours.
Uncovering the Truth
According to Ohio laws, couples are prohibited from hiding assets and income before or during a divorce. If you think your estranged spouse is trying to hide their income or assets, consulting with a skilled property division attorney is critical. Your lawyer can work together with an expert forensic accountant and seek to evaluate and investigate the following:
All business and personal transactions

Joint income tax returns

Any personal or business loans obtained recently

Complete statements for all your financial accounts
When investigating your spouse for financial infidelity, ensure that you are only looking in areas you have legal access to. Your attorney can help you understand your options and enlighten you about the divorce discovery process.
The Divorce Discovery Process
Discovery is a powerful legal tool used by divorcing spouses to uncover hidden finances and other assets in a divorce. It involves obtaining relevant information and documentation about your financial accounts and transactions. The following methods may be applied during the discovery process:
Request for Financial Documents. Your attorney can request specific financial documents from your partner such as account statements, financial records, loan applications, and income tax returns.
Demand an Inspection. You can seek to inspect any property or belongings owned by your estranged partner, including wine collections, safe deposit boxes, and more.
Request for Answers to Written Questions. Your estranged partner may be required to provide answers to written questions known as "interrogatories" or "requests for admission." Your spouse can either answer the questions in writing or admit to specific allegations that are probably true.
Give Testimony Under Oath. This requires your spouse to give testimony or answer any question asked by your attorney under oath through an oral deposition.
A dedicated Ohio family law attorney can guide you through every stage of this process and help investigate financial accounts and transactions that you have legal access to.
Working with a Knowledgeable Family Law Attorney
Hiding assets, properties, and finances during a divorce can make it difficult for divorcing couples to achieve equitable distribution. The first step toward achieving a fair settlement arrangement is uncovering hidden assets and income. If you suspect your estranged partner of financial secrecy, you need to hire a divorce attorney to advocate for your best interests and determine the best course of action.
At Rachel V. Triplett, Attorney At Law, LLC, I have the experience and diligence to advise clients in complicated divorce proceedings involving financial secrecy. As your legal counsel, I can work to understand the circumstances surrounding your unique situation and outline an effective strategy to uncover any hidden assets or finances. I will work tirelessly to negotiate a fair settlement agreement with your ex-partner and seek to recover what rightfully belongs to you.
If you think your partner is trying to hide their income or assets, contact my firm today to schedule a one-on-one case assessment. My firm proudly serves clients in Georgetown and throughout Brown County, Adams County, and the rest of Ohio.