Common Misconceptions About Divorce & Family Law
Nov. 2, 2021
Statistics from the Ohio Department of Health indicate that there were 32,364 total divorces statewide in 2019. Going through a divorce can be an emotional experience that affects different aspects of your life, such as your assets, finances, children, and future family relationships. Because of the heightened emotions involved, someone in the divorce process can make irreversible mistakes without proper legal guidance.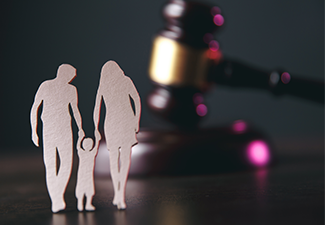 I have devoted my career to offering outstanding legal services and knowledgeable guidance to clients in divorce-related matters. As an experienced Ohio family law attorney, I'm available to discuss your unique situation and help you understand your various legal options. I will fight compassionately to protect your legal rights, your future, and the best interests of your family. My firm proudly serves clients in Georgetown, Ohio, and throughout Adams County and Brown County.
Common Misconceptions About Divorce in Ohio
Divorce is prevalent in Ohio and across the United States. Despite this, lots of misleading information and false assumptions surround the actual divorce process. Being able to differentiate between facts and myths can help mitigate unnecessary disputes, avoid extended divorce proceedings, and ultimately make the entire process feel more manageable.
Here are some common misconceptions about divorce in Ohio and what makes them false:
Misconception #1: If my spouse doesn't pay child support, I can withhold visitation.
This is a common misconception that often results in further consequences for any spouse who tries to withhold visitation. Divorcing couples must know that child support is different from parenting time. Even if the non-custodial parent is delinquent on child support obligations, the custodial parent has no right to block or withhold visitation.
Misconception #2: It's possible for one of the spouses to deny the divorce.
Ohio allows both no-fault and fault-based divorces. The party seeking divorce can state incompatibility as the reason for the divorce. Even if your spouse does not agree to the divorce, Ohio law does not allow them to prevent the divorce from happening. Hence, you can obtain a divorce without the consent or signature of your spouse.
Misconception #3: All of our assets will be divided evenly.
Ohio is an equitable distribution state. This means that all marital assets and debts must be divided equitably and fairly between the spouses. However, this doesn't mean that all marital property will be divided equally. The following factors will be considered by the Ohio courts to determine equitable distribution:
The length or duration of the marriage

The assets and liabilities available to each spouse

Whether the custodial parent will benefit from the marital home

The cost of the sale of any property

The tax consequences of asset division

Any other factors considered necessary by the court to achieve an equitable and fair distribution
Misconception #4: If a property is in the name of only one spouse, that spouse gets to keep it.
This is absolutely wrong. During divorce proceedings, any property and assets acquired during the marriage are considered community or marital property. All marital property is subject to equitable distribution. Only separate assets – properties that are exclusively owned by one spouse, such as inheritance, personal gifts, and personal injury awards – will be exempt from equitable distribution.
Misconception #5: You must divorce in the state you originally were married in.
On the contrary, you do not have to get divorced in the state you originally were married in. You can file for divorce in Ohio if you meet the residential requirements:
Either of you must have lived in Ohio for at least six months before filing.

You or your spouse must have lived in the county where you are filing for divorce for at least 90 days.
Misconception #6: Alimony is a required element of divorce.
Alimony or spousal support is not awarded in every divorce case. In Ohio, spousal support will only be awarded depending on the income and financial resources available to each spouse. To determine the amount, type, and duration of alimony, the court will consider the following factors:
The duration or length of the marriage

Relative earning ability of each spouse

Their total income

The standard of living established during the marriage

Relative assets and liabilities of each spouse

Retirement benefits
Misconception #7: The children get to choose who they will live with.
In Ohio, child custody will be awarded while making the welfare and best interests of the child a priority. In addition to the child's reasonable preference or wishes, the Ohio court will consider the following factors when determining child custody:
The wishes of the parents regarding custody

The existing relationships and interactions between the child and his or her parents, siblings, and extended family members

The ability of the child to adjust to a new home, school, and community life

The ability of each parent to work together and encourage a loving relationship between the child and the other parent

The physical and mental health of all parties involved, including the parents and child

Whether one parent has failed to make all child support payments required under an existing child support order

Whether one parent is more likely to honor a court-approved visitation or parenting-time schedule

Any history of domestic violence, child abuse, or neglect

The geographical proximity of the parents to each other
An experienced attorney can review your unique situation and help you better understand the Ohio divorce process.
Experienced Legal Guidance You Can Trust
Filing for divorce in Ohio often involves several complexities. When negotiating a divorce settlement with your ex-spouse, dividing marital assets, or establishing alimony, child custody, or child support agreements, obtaining knowledgeable legal guidance is crucial to understand the Ohio divorce laws that affect your unique situation. An experienced family law attorney can explore your available legal options and help you make intelligent decisions.
I have the experience and resources to assist and guide individuals and couples through the complexities involved in divorce proceedings. As your legal counsel, I will evaluate the surrounding circumstances of your case and outline a personalized legal strategy that fits your personal situation. I will work diligently with all parties involved to negotiate a fair divorce settlement – inducing asset division, spousal support, and parenting plans – amicably and peacefully.
If you are considering a divorce and need legal assistance, contact Rachel V. Triplett, Attorney At Law, LLC today to schedule a simple consultation with an experienced divorce attorney. I will offer you the detailed legal counsel and brilliant advocacy you need to make your transition as smooth as possible. My firm proudly serves clients in Georgetown, Ohio, and throughout Adams County and Brown County.